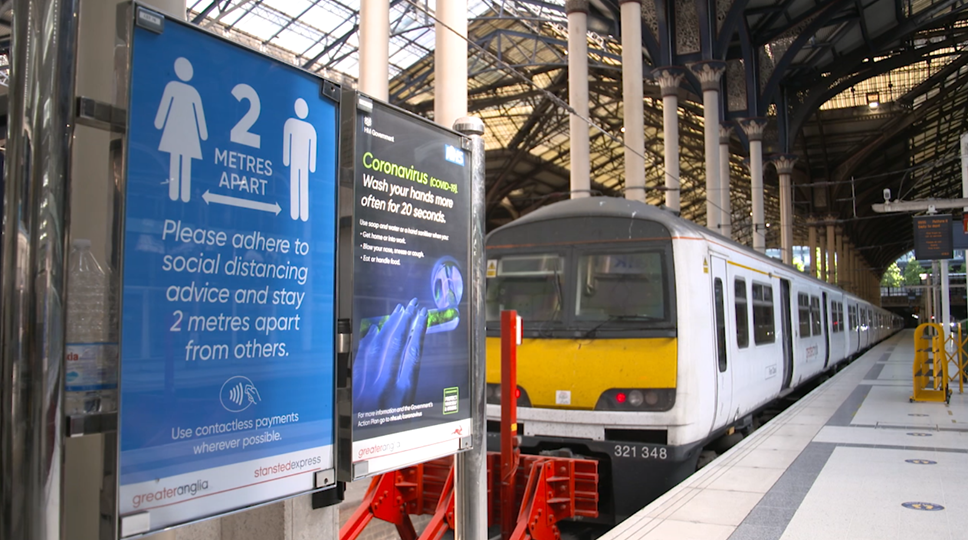 Rail passengers to be alerted to busy trains and stations before leaving home
From today, new technology will mean rail passengers can be alerted to busy trains and stations before they leave home, helping them stagger their journeys and keep safe while travelling.
A new system from National Rail will indicate to people who are searching for a journey if a specific train or station is looking busy. It will take operational messages about busy trains and stations that are sent by frontline rail staff to control rooms and, within five minutes, display these in passenger-friendly language on journey planning websites and apps.
People will see a red or yellow warning triangle when they search their journey and by clicking on it, will be able to find out more information and advice.
Advice given when planning a journey on National Rail
This journey information will be complemented by a new information service that will update passengers on how disruption and overcrowding will affect their journey. This new technology will also provide alternative travel options, helping people maintain social distancing as they continue to make essential journeys. Passengers can sign up to alerts from National Rail on 'Alert me by Messenger', with updates on WhatsApp and SMS being made available over the coming weeks.
The introduction of the technology was announced by Transport Secretary Grant Shapps during the government press conference on Saturday 23 May. The personalised information service, developed by tech start-up Zipabout, uses a range of anonymised data, including journey planning data, to predict how busy a train is likely to be by analysing recent information and comparing it with historic trends. This in turn allows National Rail Enquiries not only to warn passengers of busy services, allowing them to plan and stagger their journeys, but also to suggest quieter options or alternative routes they can take.
People can stay updated about their journey by National Rail on the Alert me by Messenger app
Train companies say that the new technology will play an important role in helping people to travel safely, with social distancing measures space on trains to around 10 per cent of normal levels. The announcement comes as more people are expected to return to the rail network with more businesses set to reopen this month.
To encourage people to sign up to the new service and heed train companies' calls to check the latest information before they leave home, operators are also today publishing the busiest times in the morning to travel to and from some of the most popular stations in nations and regions across Britain. At some stations, the peak time for travelling at the start of the day is earlier than before and journeys in the evening are being staggered over a longer period compared to morning journeys.
| | |
| --- | --- |
| Station | Current busiest time at this station (AM peak) |
| Birmingham New Street | 06:00-06:30 |
| Bristol Temple Meads | 08:30-09:00 |
| Cardiff Central | 08:30-09:00 |
| Edinburgh Waverley | 07:00-08:30 |
| Glasgow Queen Street | 07:00-08:30 |
| Leeds | 08:00-08:30 |
| Liverpool Lime Street | 08:00-08:30 |
| London Victoria | 07:00-07:30 |
| London Waterloo | 06:30-07:30 |
| Manchester Piccadilly | 07:00-07:30 |
Rail companies, government and technology companies are also working together to build on this new technology by looking at all other available data sources to ensure passenger information is as up to date as possible.
Robert Nisbet, director of nations and regions at the Rail Delivery Group, which represents train operators and Network Rail, said:
"With social distancing meaning there is space for fewer people to travel by train, the rail industry will be using technology to help passengers stagger their journeys and stay safe while travelling. The eyes and ears of thousands of frontline staff will let us know if stations or trains are getting busy while cutting-edge data analysis will help us predict spikes in demand, giving passengers the advice they need in the palm of their hands.
"While people should only go by train if their journey is really necessary, those who do need to travel should sign up for alerts from National Rail and, before setting off, pop online to check the very latest information and avoid the busiest times. We also ask everyone travelling to wear a face covering to prevent the spread of the virus."
Transport Secretary Grant Shapps said:
"With capacity reduced to around one fifth of that previously seen on our railways, it is important that people work from home if they can, stagger their travel times to avoid crowds, and use other forms of transport wherever possible.
"But for those who need to use the train it is fantastic to see innovative digital services rolled out to help keep them safe while on the move. Harnessing data and new technology will be crucial both to enable social distancing now, and to modernise the network for the future."
Alex Froom, Chief Product Officer at Zipabout said:
"We're looking forward to quickly refining and accelerating this technology in partnership with not only Rail Delivery Group but also the rail operators who most need this capability and information at the moment. By combining our own predictive technology with the additional information that RDG have enabled, we will be able to support every passenger and operator through these challenging times."
Contact Information
Niall McGourty
Senior Media Officer
Rail Delivery Group
020 7841 8020
Notes to editors
Advice for people who need to travel: The rail industry is advising people to:
Plan ahead: check before you travel. Buy tickets online, on mobile or on Smartcard and avoid travelling at busy times. If travelling on a long-distance service, you are strongly advised to make a reservation beforehand as capacity will be limited and you may otherwise not be able to travel.
Consider others: people should wear a face covering to prevent spreading the virus. Respect our staff and be considerate to those less able as we all navigate a different way to travel.
Stay safe: maintain social distancing where possible and pay contactless where available. Protect yourself by using hand sanitiser and washing your hands frequently.
Updates on journey planners: The information from frontline rail staff to control rooms is then stored on a central database which the National Rail website, train operator websites and other third party transport sites use on their journey planners.
Predictive alerts: People can get predictive alerts for their journey by messaging National Rail on Facebook Messenger. By asking questions about their journeys, people will be given choices about how they can be kept updated, including proactively suggesting alternative routes if their intended journey is busy. The personalised service is driven by innovative technology from British company ZipAbout, as announced by the Transport Secretary on Saturday 23 May.
Journey disruption update tools: This new technology builds on existing tools to keep people up to date about their journeys. People can sign up for email, SMS, and Twitter alerts on the National Rail website by clicking the "Set up journey alerts button". It is also possible to get app alerts about current journeys through train operator website and apps.
Busiest times in the morning at popular stations across Britain: The long list of stations, below, uses data from operators and Network Rail that manage those stations.
| | |
| --- | --- |
| Station | Busiest time to travel in the morning |
| Birmingham New Street | 06:00-06:30 |
| Brighton | 07:00-07:30 |
| Bristol Temple Meads | 08:30-09:00 |
| Cambridge | 07:00-08:00 |
| Cardiff Central | 08:30-09:00 |
| Edinburgh Waverley | 07:00-08:30 |
| Glasgow Central | 08:30-09:00 |
| Glasgow Queen Street | 07:00-08:30 |
| Leeds | 08:00-08:30 |
| Liverpool Lime Street | 08:00-08:30 |
| London Euston | 07:30-08:00 |
| London Kings Cross | 07:00-07:30 |
| London Liverpool Street | 07:00-07:30 |
| London Paddington | 06:30-07:00 |
| London St Pancras International | 06:00-06:30 |
| London Victoria | 07:00-07:30 |
| London Waterloo | 07:00-07:30 |
| Manchester Piccadilly | 07:00-07:30 |
| Newcastle | 07:00-09:00 |
| Nottingham | 07:30-08:00 |
| Reading | 07:30-08:00 |
| Stratford (London) | 05:00-07:00 |
| York | 07:00-09:00 |