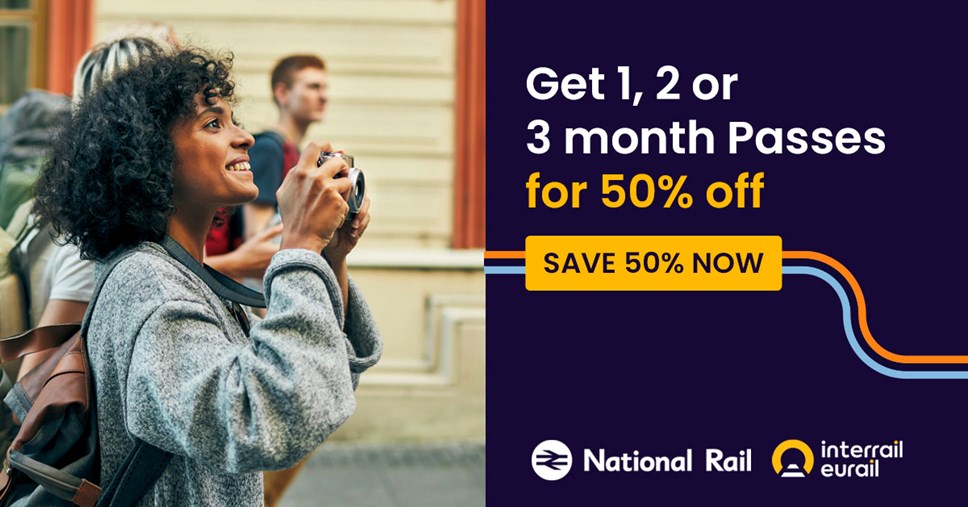 Enjoy 50% off an Interrail Global Pass for a limited time only this May
To celebrate 50 years of being able to Interrail across Europe, National Rail is offering customers 50% off Interrail 1, 2 and 3 Month Global Passes from 6th – 10th May.
Interrail is a fantastic way to explore the continent and its beautiful scenery in a green, low carbon way. A Global Pass – will give you the opportunity to enjoy unlimited travel on the national railways of the 33 participating countries, as well as some participating ferry lines – so all you need to worry about is where to go first.
Take advantage of the sale now and start planning that unforgettable summer family holiday, with all the excitement and anticipation that brings. A family Global Pass for two adults and two children, valid for 1 month to travel Europe, will be £562 (normally £1,162) and children up to the age of 11 travel free.
Fancy a 'Golden Gap Year'? Whether you're travelling solo, as a couple, or in a group, it's never too late for that trip of a lifetime; with the freedom to go where you want, when you want, by train from just £211.00 (normally £423) for one month of adventure, or from just £281.00 (normally £563) in the extra comfort of 1st Class.
Choosing the destinations can be the hard part! National Rail's recommendations for breath-taking Interrail train journeys this summer include:
Croatia's night train
Take the night train from Zagreb to Split. Relax in the cool night breeze and wake up to stunning scenic views of the Dalmatian mountains all the way down to sea level. During the summer season the train runs daily. Interrail Passes that include Croatia are valid on the entire route.
Germany - Black Forest route
From Offenburg to Hornberg this train passes through abundant grassy fields and small quaint villages, through cool the pine forests all the way to your final destination – Lake Constance. The route is 150km long and ascends 650 meters. Interrail Passes valid for Germany can be used on all Deutsche Bahn run Black Forest Train lines
Spain - Algeciras to Ronda route
There are eleven stations between Algeciras and Ronda which have preserved many of the classics of its British engineering from 1890 – single story stations, old station clocks, and all the original hand operated points and signals still beautifully intact. Not to mention the beautiful RENFE trains will have you feeling like you're in the lap of luxury for the almost two hour journey. All RENFE lines are included with an Interrail Pass covering Spain, but reservations may be required
Macedonia: history and mountains route
Take a train to Skopje, pass by Tetovo's ornate Sarena Mosque, or travel to the southern mountains and escape. The options are endless and Macedonian Railways are in the Global Pass, which enables cross border travel.
Austria – Semmering route
Constructed between 1848 and 1854, the Semmering line was the first railway to be added to the list of UNESCO world heritage sites. It is also commonly referred to as the world's first true mountain railway. With the spectacular mountain-scape, tunnels and viaducts along the way there's no risk of getting bored on this journey. Interrail Passes for Austria are valid on the Semmering line, no supplement or reservation is required.
Jacqueline Starr, CEO of the Rail Delivery Group said: "Many of us are increasingly concerned about our personal impact on the environment, and what we can do to lessen it. We hope that this great offer on Interrail Global Passes will help more people enjoy sustainable and scenic adventures by train this summer".
Try something different, go flight free and reduce your carbon footprint this summer. Get 50% off an Interrail Global 1, 2 or 3 month Pass until 10th May at www.myinterrail.co.uk/sale * booking available from 00:01 6th May.
Contact Information
Sarah Apps
Notes to editors
Get 50% off by purchasing between 6th – 10th May 2022. Offer ends 23:59 on 10th May 2022
All Promo Interrail Passes are non-exchangeable and non-refundable.
During the sale you can get an Interrail Global Pass from £211.20. Price based on 50% off a
2nd Class youth 1 month Global Pass.
An Interrail Pass lets you travel on the national railways of the 33 participating countries, as
well as some participating ferry lines.
Date of travel must be confirmed on date of purchase for customers purchasing a paper Pass.
Passes are valid from the start date entered for the duration purchased.
Trips can be booked for 11 months from time of purchase.
Please note that compulsory reservations and/or supplements apply on certain trains.
MyInterrail.co.uk is brought to you by National Rail, one of the most price-competitive retailers of Interrail passes. Explore over 10,000 destinations in Europe, with just one train pass. The Interrail Pass is a train ticket that allows you to travel on almost all trains in Europe. With it, you get access to 38 railway and ferry companies in 33 countries.
Images and quotes are available upon request.