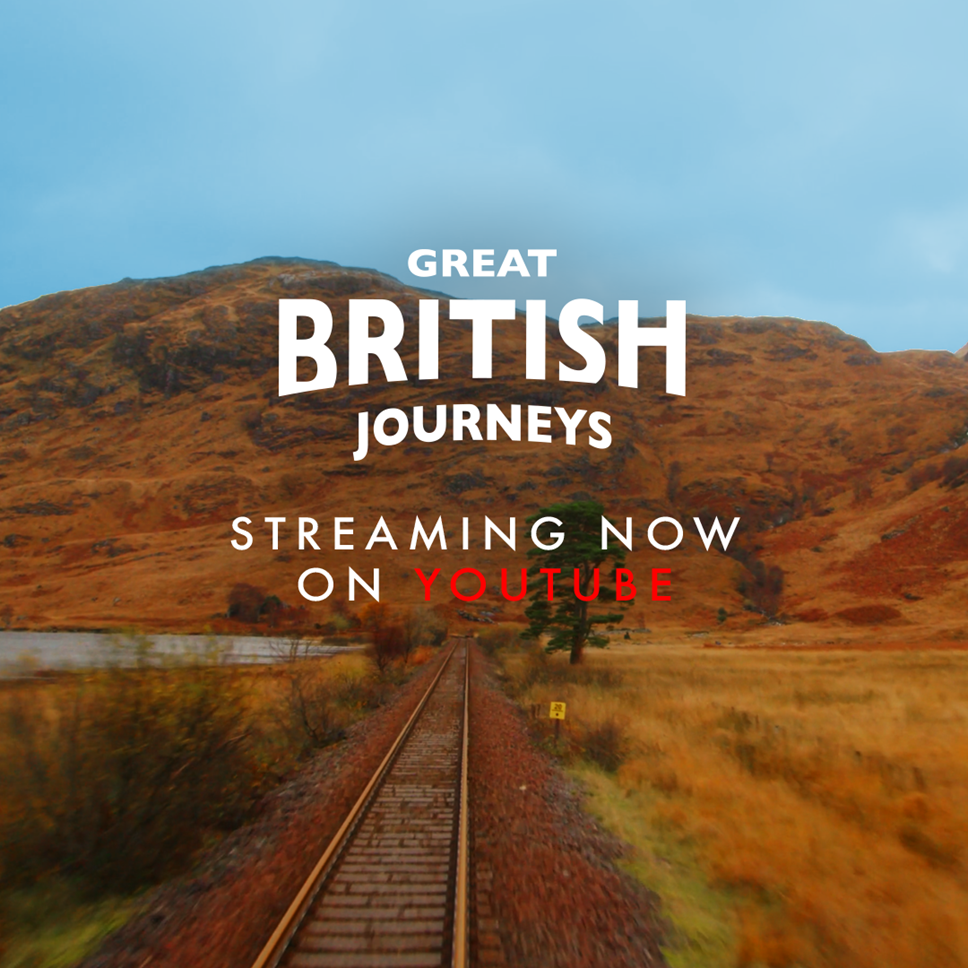 National Rail premieres new 'TV channel' bringing Britain's most awe-inspiring and relaxing rail journeys to our screens
Stunning high-definition footage – the most comprehensive and high quality ever shot on Britain's railway – gives a unique driver's eye view of the nation's most scenic rail routes
New data shows 55% of people find the scenery out of the window the most enjoyable part of train travel and 24% say the movement makes them feel a sense of calm
Today, National Rail is premiering its new 'Great British Journeys' YouTube series which treats viewers to a virtual escape on the nation's most relaxing, beautiful journeys. The series is free for all to access and takes inspiration from Netflix's 'fireplace' and other relaxing videos while encouraging people to get back out and explore the nation by train.
The unique footage offers a stunning, high-definition drivers' eye view of some of the best countryside Britain has to offer, from the mountain ranges of the Highlands to the rolling fields of Norfolk.
Data from National Rail shows that train travel can be a great way to unwind. When surveyed about what they most enjoy about train travel, 55% of people said the scenery out of the window and 24% said the movement of travelling by train makes them feel a sense of calm. The new series features relaxing music, as well as scenic views to help viewers relax and alleviate stress.
Along with releasing new videos every week for six weeks, National Rail will stream the full nine hours of uninterrupted footage on a loop so viewers can tune into the 'live' channel at any time and see Britain's most beautiful scenery on journeys across Scotland, Wales, Devon and East Anglia.
'Great British Journeys' aims to showcase the beautiful views that the nation has to offer and inspire people to take staycations rather than travel abroad. Leisure travel by train is now close to pre-pandemic levels (95%) and is helping to drive the country's recovery from the pandemic.
Jacqueline Starr, Chief Executive Officer of the Rail Delivery Group, said:
"We want these rarely seen views of stunning Great British journeys, shot direct from the driver's cab, to inspire people to get back on track and enjoy the best of Britain. Rail delivers more than a journey – as well as helping you relax and unwind, it connects you to the people and places you love, and is one of the greenest ways to explore the most beautiful sights that Britain has to offer."
The rail industry is running its biggest marketing campaign in a generation, 'Let's Get Back on Track', to encourage more people to book a journey and take the train to connect with the people and places they love. Encouraging people to travel by train is good for the economy – leisure passengers by rail spend £107 per trip, on average, supporting local jobs and businesses.
Contact Information
Layla Fazal
Notes to editors
The 'Great British Journeys' footage is available on National Rail's YouTube channel.
Research conducted by Opinium Research between 10-17 September 2021, using a sample of 3001 UK adults in work, found that 55% of people enjoy the scenery out of the window when travelling by train and 24% enjoy that the movement of travelling by train makes them feel a sense of calm.
More than a journey: WPI Economics were commissioned to carry out a study of the economic, social and environmental benefits of rail by the Rail Delivery Group. This included an online survey of a nationally representative sample of 2,241 residents of Great Britain between 16th and 22nd June 2021 carried out by Savanta ComRes. Alongside this they carried out an online survey of 103 decision-makers in retail and hospitality businesses across the country between 23rd June and 5th July about the value of the rail network to their business.