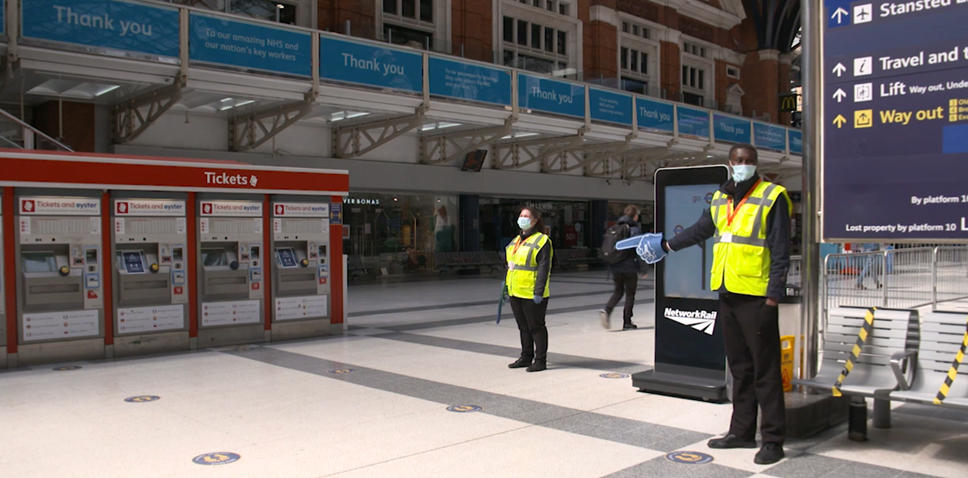 Network Rail and train operators remind passengers to follow public health advice as temperatures soar
With temperatures set to reach the mid-30s in parts of Britain towards the end of this week and into the weekend, the rail industry is working to keep passengers moving safely
Passengers are being asked to plan ahead and continue to follow public health advice when travelling by rail – wear a face covering unless you are exempt, maintain a distance from others and travel at quieter times wherever possible
Network Rail has activated its extreme weather action teams (EWATs) at hotspots across the country. Speed restrictions may be introduced at the hottest locations to keep services running as reliably as possible in extreme heat
Train operators will have staff on hand to help and provide guidance through journey planners and social media
Rail companies are urging passengers to plan ahead and follow public health advice as temperatures are expected to soar from tomorrow (Friday) into the weekend.
With many people likely to take advantage of the hot weather by going on staycations or day trips to coastal resorts, it is vital that people who use the railway for such journeys adhere to public health guidance to keep themselves and other passengers safe.
Network Rail and train operators are working together to minimise disruption by having 'extreme weather action teams' on hand to keep people moving, having staff available at stations to help passengers, and providing guidance about travelling during hot weather through journey planners and social media. As part of their Safer Travel Pledge, rail companies are also boosting cleaning at stations and on trains, providing soap and sanitiser to make it easier for people to keep their hands clean and providing personalised alerts about busy trains through Facebook messenger.
Robert Nisbet, director of nations and regions at the Rail Delivery Group, which represents Network Rail and train operators, said:
"With hot weather forecast, we know that many people will want to visit friends or take the family to the beach. Train operators and Network Rail are working together to help passengers travel safely this summer as part of our Safer Travel Pledge by boosting cleaning, helping with hygiene and providing improved information to help people stagger their journeys.
"When travelling in this weekend's hot weather please carry a water bottle, wear a face covering unless you are exempt, and follow social distancing guidelines."
Even in hot conditions, it is vital that passengers wear a face covering for the duration of their journey to help protect themselves and others. Those who don't, and who aren't exempt from the rule, risk a £100 fine and being refused travel. Face coverings can be temporarily removed for the purposes of drinking water.
EWATs activated to minimise disruption
Network Rail has activated EWATs at key locations across the network to respond to any potential issues such as buckled rails or damaged overhead lines, and minimise disruption as we keep passengers moving safely and as reliably as possible.
The rail network comprises 20,000 miles of steel track, which absorbs heat easily, and thousands of kilometres of overhead power lines which keep electric trains moving. When temperatures rise, the track can get up to 20 degrees hotter than the air temperature and in some cases cause the rail to buckle, while extreme heat can also cause damage to overhead line wires.
Network Rail's specialist staff will be working tirelessly, monitoring trackside temperatures and vulnerable locations and, if necessary, introducing temporary speed restrictions. This helps because slower trains exert lower forces on the track and reduce the likelihood of buckling, meaning major disruption caused by a buckled rail can be avoided, but there might be slight disruption and services may take longer than usual.
Contact Information
Daniel Wood
Notes to editors
Network Rail reduced the number of buckled rail incidents in 2019 by 83%, compared to a peak in 2003.
When installing our steel rails, we use a process called stressing to protect against buckling. Stressing the rails allows us to set the range of temperatures the track can comfortably cope with. Stressing our rails to cope with higher summer temperatures would mean making them less able to cope with low temperatures during the winter. Our rails have a stress-free temperature of 27oC, the average summer rail temperature in the UK. You can find more info here – https://www.networkrail.co.uk/why-rails-buckle-in-britain/
Long periods without rain can mean the ground underneath the tracks dries out and shrinks, creating pothole-like cracks. Much like on the roads, trains can't drive at full speed over these defects and have to slow down to keep passengers safe.
Our teams work hard all year round to reduce minimise the disruption caused by hot weather. You can find more information about what we do here –https://www.networkrail.co.uk/running-the-railway/looking-after-the-railway/delays-explained/buckled-rail/
More information on climate change and weather resilience on the railway is available here – https://www.networkrail.co.uk/communities/environment/climate-change-weather-resilience/
Rail companies have published a Safer Travel Pledge outlining the extra steps they are taking to make your journey safer. WE ARE...
1. MAXIMISING SPACE - Running more trains and carriages to make extra room.
Running more services to help meet increased demand
Designing our timetables to maximise services at the busiest stations and times of day and to reduce delays
Adding extra carriages for you where possible to make longer trains, helping with social distancing
Putting floor markings and signage on our trains and at our stations to help you get around safely
2. BOOSTING CLEANING – Cleaning trains and stations more regularly
Cleaning our trains and stations - 14,000 carriages and 2,500 stations - more frequently and more thoroughly throughout the day, focussing on the areas you are most likely to touch
Using powerful anti-viral cleaning products to give added protection
3. HELPING WITH HYGIENE – Making it easier for you to keep your hands clean
Replenishing soap supplies in our stations and trains more frequently
Installing hand sanitiser points in over 300 stations and vending machines in over 150 stations selling face coverings and sanitiser
Encouraging those who can, to use a face covering with giveaways totalling almost a million
4. IMPROVING INFORMATION – With people and technology to help you at every stage
Launching a new service that alerts you to crowding and disruption on your journey before you travel – sign up at nationalrail.co.uk
Increasing the availability of tickets on smart phones and Smartcards so you can download at home and move swiftly through stations without the need to touch gates or ticket machines
Making it easier for people using our Passenger Assist service to book the help they need by taking requests up until 10pm the day before travel and continuing to help those who can't book ahead
Having up to 2,500 extra people available as necessary at key locations to answer your questions or concerns so you can get on your way
To help us keep you safe, YOU CAN...
Travel off-peak - Keep your distance wherever possible and travel at quieter times and
Wash your hands – Carry hand sanitiser and wash your hands before and after your journey
Bring a face covering – Make sure you wear a face covering through your journey unless you are exempt
Check before you travel – Plan ahead by visiting nationalrail.co.uk before setting off and sign up for alerts on the Messenger app