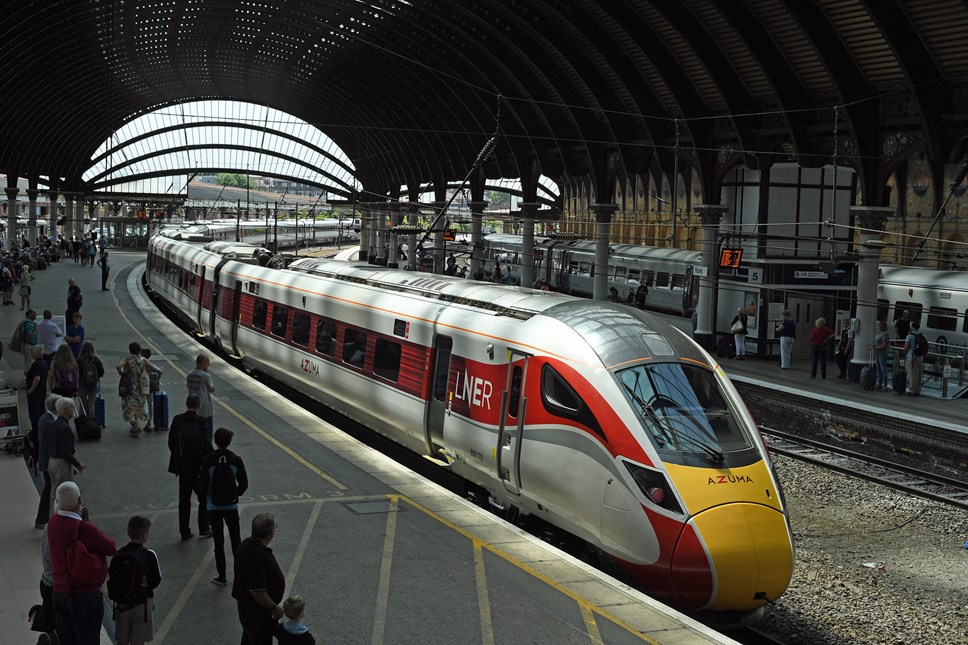 New year, new trains: rail industry to introduce 1,000 extra train carriages in 2020
Next year nine operators are introducing new and upgraded trains across the country as part of an industry commitment to replace half of Britain's train fleet new for old, improving accessibility and journey information for passengers.
Rail passengers across the country are set to benefit from 1,000 extra train carriages next year, with better technology on board to improve journey planning and accessibility. This will grow the nation's fleet from nearly 15,000 train carriages today to almost 16,000 by the end of 2020.
New and upgraded trains will provide accessibility information to passengers before they pull into stations, tell people where to board and send GPS signals of their exact location, as part of an estimated £20 billion investment in running and upgrading the railway next year.
The nine operators introducing new and upgraded carriages are:
Greater Anglia – a multi-year programme is seeing a thousand new train carriages replacing the entire fleet
Heathrow Express – 12 specially converted dedicated airport trains operating between Heathrow Airport and London Paddington
Hull Trains – 25 new train carriages continue to be rolled out on services between London and Yorkshire and the Humber
London North Eastern Railway – completion of the introduction of 65 new trains running between London, the East Midlands, Yorkshire, the North East and Scotland
Merseyrail – the introduction by the Liverpool City Region Combined Authority of a new fleet of cutting-edge trains
Northern – continuation of 101 new trains on routes in the North of England
South Western Railway – the start of a fleet of 90 new trains will run from the middle of 2020
TransPennine Express – continued introduction of 44 new trains on routes connecting northern England
West Midlands Trains – new trains next year will add more seats and space for people in and around the West Midlands
New trains will provide customers with exact information about a train's location, reducing instances of trains predicted to be on time suddenly showing as delayed. On older trains, their location is only measured when they pass signals, which can be up to five miles apart. In some areas, new technology will also tell people which carriages are emptier using data on footfall and reservations, and even where to stand on the platform to board the train. Operators including Heathrow Express are introducing at seat power, on board TV and faster Wi-Fi.
New carriages will make the railway more accessible for more people, with more trains including information screens with clearer information to help passengers with learning difficulties or visual impairments. The new trains being introduced onto the Merseyrail network feature a sliding step to allow step free access between the platform and the train as well as a number of other innovations, designed in collaboration with customers. New Greater Anglia trains benefit from lower level floors and a retractable step at each door, making them more accessible for wheelchairs, buggies and people with reduced mobility. By 2021, all new trains will show if toilets are accessible and whether they are in use.
Paul Plummer, chief executive of the Rail Delivery Group, said:
"Next year, passengers will be able to track their train, find out where accessible toilets are and even find a seat in the emptiest carriage as 1,000 extra train carriages come on track. New and improved technology will provide better information to passengers and make the railway more accessible to more people as train companies work together to replace half of Britain's train fleet old for new."
Data collected by a number of new tech-enabled trains will be used by National Rail to keep customers informed through screens at stations and their phones. Passengers will be able to track trains through TrainMapper, a system powered by Google Maps and enabled by GPS upgrades, which will launch on the National Rail website in the New Year. Passengers can also sign up to receive personalised information, including suggestions for alternative routes during disruption, through Facebook Messenger and 'Alert Me' in the National Rail app.
ENDS
Notes to editors:
Britain's rail companies have published a joint Investment Report 2020, with the industry committing to introduce 1,000 new carriages in the year ahead, on top of the recent introduction of 1,000 new services in the new winter timetable. In total, an estimated £20 billion will be invested in running and upgrading the railway in 2020.
Chiltern, Grand Central, LNER and parts of Northern and ScotRail were the first train networks to use a GPS-led information system during 2019.
Improvements in 2020 are building on those already underway, with weighing technology already available on GTR's Class 700 Thameslink trains to tell passengers on board how busy each carriage is and whether toilets are occupied.
Contact Information
Rail Delivery Group Media Team