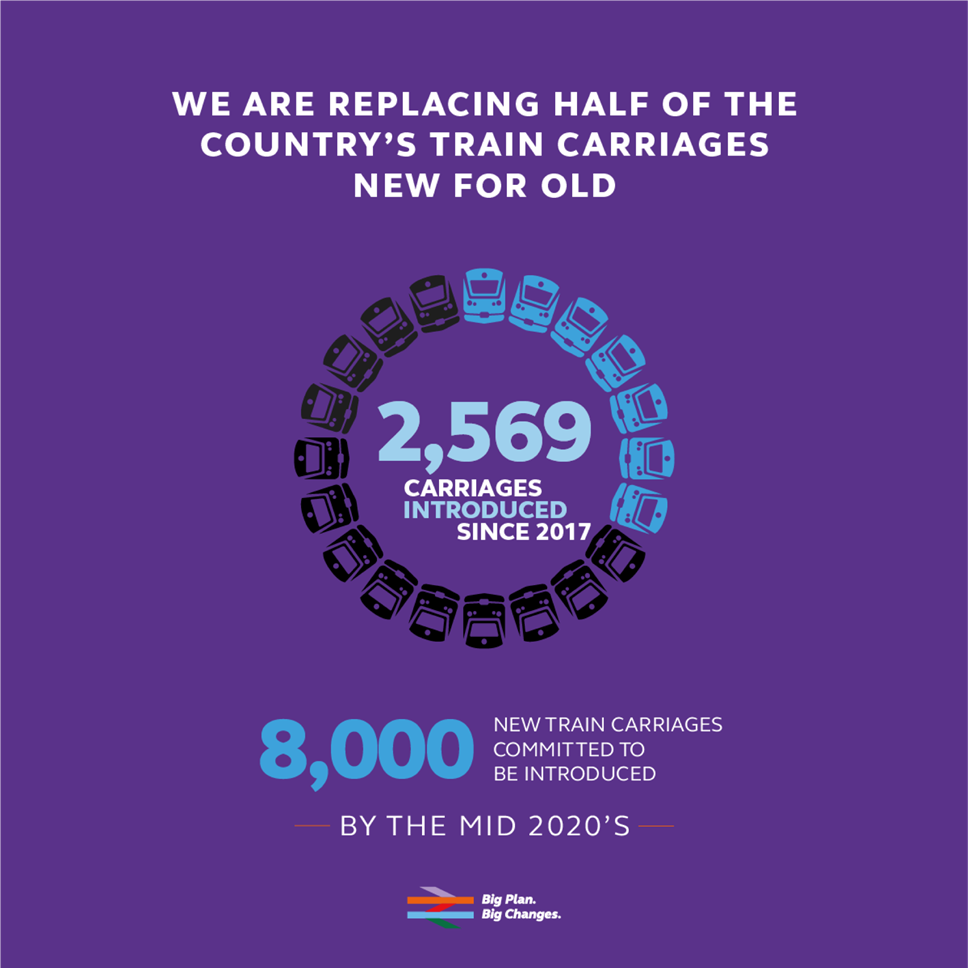 Passenger satisfaction up as rail companies add new trains and extra services
Passenger satisfaction with rail journeys is up three percentage points year-on-year, according to the most recent survey of 28,000 passengers published today by the independent watchdog Transport Focus.
This comes after rail companies have introduced thousands of new trains and extra services.
Scores in some parts of the country remain comparatively low, reflecting poor levels of reliability. Nationwide, however, people are more satisfied with around half of the aspects of their journey about which they were asked. No categories saw a statistically significant decline.
The rail industry has made a series of improvements which are reflected in higher satisfaction scores. These include:
2,569 new train carriages since 2017, with plans for 8,000 new carriages by 2025. The survey shows overall satisfaction with the train is up 2 percentage points to 78% and space for luggage was up 2 percentage points to 58%. The availability of power sockets saw the biggest increase in satisfaction of any aspect of a journey, up 7 percentage points to 38% and this is expected to keep improving as more new and refurbished trains come on track.
5,000 extra services per week since May 2018, with the industry committed to adding 11,300 extra services to the weekly timetable by 2025. Passenger satisfaction with the frequency of trains is up 3 percentage points to 76% and overall satisfaction with punctuality/reliability has also increased by 3 points to 74%.
Improvements to passenger information during disruption including personal notifications through the National Rail app and Facebook messenger, with information about claiming compensation. Passenger satisfaction with the usefulness of information about a delay is up 6 percentage points to 48%, and how well a train company deals with delays is up 4 percentage points to 41% as the rail industry is continuing its work to improve in this area.
Nationally 82% of journeys were rated as satisfactory overall, an increase of 3 percentage points compared to Autumn 2018.
Responding to the headline scores in the survey, Robert Nisbet, Director of Nations and Regions at the Rail Delivery Group, said:
"While we are working hard to address challenges on some routes where train punctuality should be better, today's improved satisfaction scores show that passengers are feeling the benefits of investment in thousands of new carriages and extra services. Punctuality is stabilising on many routes and passengers will continue to see their journeys improve as we replace half the train fleet old for new by 2025."
On value for money, Robert Nisbet, Director of Nations and Regions at the Rail Delivery Group, added:
"We know people want better value for money and have put forward bold proposals to government for a new fares system which will help to deliver this. We look forward to seeing the outcomes of the Williams Review and working with the government to create a railway that is more responsive to what passengers want in all areas of the country."
Passenger satisfaction with value for money remains low at 47%, compared to 46% last year. The rail industry is calling for reform to the fares system, which would enable them to offer better value fares. Last April, rail companies published proposals to government to update regulations which underpin the fares system and date back to the 1990s. These proposals would make ticket buying easier, enable the roll out of 'tap-in, tap-out' pay as you go across the country to potential save money for commuters working flexibly and travelling off-peak, and provide a better range of walk-up fares for long-distance journeys.
An easier fares system could also underpin structural reform of the railway. Britain's rail companies are proposing a radical alternative to the current franchising system that would better join up the railway, improve accountability with a new organising body in charge and ensure different types of services are designed to suit the needs of different groups of passengers.
Notes
The Transport Focus survey questioned 27,764 passengers about their most recent journey between 2 September and 10 November 2019, providing a highly statistically robust assessment of people's views about their train travel.
While the survey is undertaken twice-yearly, as some station and train factors have a seasonal component to the result, the main comparison used by Transport Focus is year-on-year.
The rail industry is working together to change and improve the railway today, including adding 8,000 new and hundreds more refurbished-like-new carriages – equivalent to replacing half of today's train carriages new for old – and adding over 11,300 extra services per week to make trains more frequent. Read the full Investment Report 2020.
The 'Easier Fares for All' proposals, published last February, explain how updates to regulation would enable the transparent, simpler to understand fares system people want, backed up for the first time by an industry 'best fare guarantee'.

Reform would support: 'tap-in, tap-out' pay as you go being rolled out across the country; enable greater local control over fares in devolved areas; and better integration of rail fares with those for other modes of transport.
With a new system, commuters working flexibly and travelling in off-peak hours could see savings while overcrowding could be reduced by up to a third on some of the busiest long-distance services.

The RDG published their submission to the Williams Review in April 2019. We proposed a clear, eight-point plan to deliver a new system for our customers and the communities we serve:
Deliver easier fares for all
Put a new independent organising body in charge of the whole industry
Introduce response, customer focussed 'public service contracts', replacing the current franchising system
Give customers more choice of operators on some long-distance routes
Make sure track and train are all working to the same customer-focussed goals
Bring decisions about local services closer to home
Enhance freight's central role in delivering for Britain's economy
Invest in our people to deliver positive long-term change for our customers
Delivered in full, this plan opens the door to TfL-style concessions in more cities across the country, with customer-outcome based contracts on other parts of the network, operating to passenger-centric targets. These would be complemented by some long-distance routes offering more competition and choice for the customer. In all cases our plan would be underpinned by a modernised, reformed fares system with tap in tap out and a price cap in urban areas, matching the way people live and work today.
The new system would be overseen by a single organising body, independent of government and industry, ensuring decisions about trains, infrastructure and services are more joined up. It will ensure the railway keeps its promises to its customers and all players are held to account.

Contact Information
Rail Delivery Group Media Team