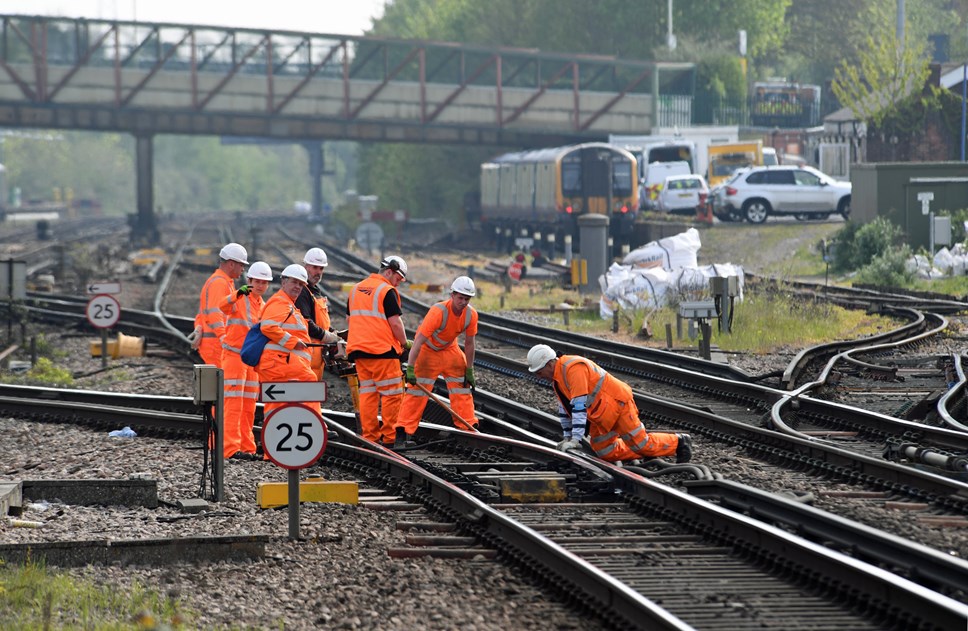 Rail companies urge customers to re-plan journeys as storms threaten major disruption
Rail companies are urging customers planning to travel on Friday to reconsider their plans after red and amber weather warnings were issued for Storm Eunice, with strong winds expected to affect much of the UK.
Journeys will take longer as blanket speed restrictions – 50mph in most places – will be imposed for safety reasons on the main rail lines across the country, with winds set to reach as high as 90mph in some areas. High winds can lead to trees and debris being blown onto train lines, which then block trains and can cause delays and cancellations.
The severe weather will affect journeys across the country. Rail companies are asking people to plan their travel for a different day and to check before they travel. Passengers can also claim compensation if they have been affected by the disruption.
Network Rail and train operators are working together to keep people safe. Network Rail have additional engineers out across the network ready to react to problems when they happen and will check all affected lines for damage before reintroducing services as quickly as possible. People who re-plan a journey for Friday will be able to use their ticket to travel on equivalent services with their train operator any time on Thursday or Saturday.
​​​​​ Jacqueline Starr, Chief Executive Officer at the Rail Delivery Group said:
"Rail companies are working hard to keep people moving safely but journeys will be disrupted, especially on Friday. We're asking people to plan their travel for a different day if possible or to check and re-check before they travel."
Jake Kelly, Network Rail's group director, System Operator, said:
"We will be doing everything we can to keep as many services as possible running safely and reliably on Friday, but with such strong winds expected we know that disruption to passengers' journeys is inevitable. Please consider whether your journey is necessary on Friday, and if possible, re-plan your journey for another day."
Contact Information
Layla Fazal
Notes to editors
For further details, including requests for interview, contact Network Rail on: mediarelations@networkrail.co.uk
The Rail Delivery Group represents train operators and Network Rail. The press office is available at media@raildeliverygroup.com
Check before you travel: You can check your journey using the National Rail Enquiries real-time Journey Planner. If you would like to follow this incident on Twitter, please use #StormDudley and #StormEunice
Some train companies are accepting tickets for different operators over the coming days. Customers are advised to check with their train company.
Some train companies are accepting tickets for equivalent services on other days beyond Thursday and Saturday. Customers are advised to check with their train company.
You may return an unused Ticket to the original retailer or Train Company from whom it was purchased, where you will be given a full refund with no administration fee charged, if you decide not to travel because the train you intended to use is: • cancelled, or • delayed, or • rescheduled from that in Published Timetable of the Day after you have purchased a Ticket or Tickets.
As extreme weather becomes more frequent, the rail industry is working to make the network more resilient while encouraging more people onto trains to benefit the environment.