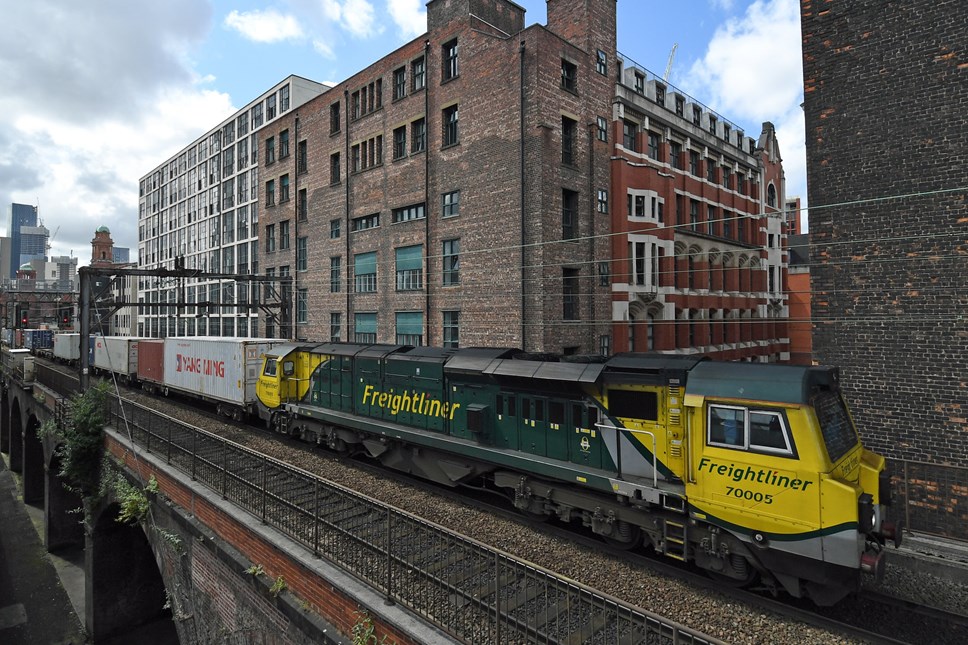 Rail freight steps in to support supermarket shoppers amidst HGV driver shortage
Figures released today by the Office of Rail and Road (ORR) show that freight carried by rail in the three-month period April to June has increased by 36.5% compared to the same period last year, demonstrating a strong recovery since the start of the pandemic
As the UK grapples with a HGV driver shortage, which is wreaking havoc across supply chains, rail freight operators are stepping in transporting goods and helping to ensure supermarket shelves are stocked.

Data also shows that the volume of domestic intermodal freight such as food, clothes and toys, rose by 22.5% in the same quarter this year compared to last year, and almost back to pre-pandemic levels.
In 2019, 16% of domestic greenhouse gas emissions came from heavy goods vehicles on our roads. With a typical freight train carrying the equivalent of 76 HGVs, rail freight removes 7 million lorries off the roads every year, cutting traffic jams and pollution.
Andy Bagnall, Director General at the Rail Delivery Group, said:
"With the current HGV driver shortage the role of rail freight has never been more crucial in transporting goods and keeping supermarket shelves stocked. And whether it's goods or people, to build back better and to create a fair, clean economy for tomorrow, the country relies on a thriving railway. To realise its commitment to net zero by 2050 and support economic growth, government should set an ambitious target to encourage the shifting of goods from road to rail."
Contact Information
Maria Lam
Media Relations Manager
Notes to editors
Every year, rail freight removes 7 million lorry journeys cutting 1.4 million tonnes of CO2 emissions.
In the UK, intermodal rail freight has doubled in the last 20 years and now one in four containers transported to/from a port is carried by rail.
Freight companies say a modal shift from roads to rail will grow the economic and environmental benefits across the UK: https://media.raildeliverygroup.com/news/new-research-shows-rail-freight-is-levelling-up-britain-and-cutting-emissions-across-the-country
Rail freight already delivers £2.45 billion of economic benefits to the UK and removes the need for 7 million lorry journeys a year.
In its 'Rail Freight: Building a stronger, greener future for Britain' report, published in July, RDG outlines a series of policies the government should support if it wants to reduce congested roads and cities, support the levelling up agenda and achieve net zero carbon emissions by 2050.
Research published earlier this year by RDG showed that rail freight delivers £2.45 billion in economic and social benefits to the UK every year. In addition, each tonne of freight transported by rail produces 76% less carbon emissions compared to road transportation with one freight train replacing the equivalent of up to 76 lorries.
Freight operators are working with Network Rail to run longer and heavier freight services, helping customers to keep their supply chains moving and removing more HGVs from our roads.
To help shift more freight on to rail and off the roads, RDG's freight operator members are calling on the government to:
Make the best use of capacity on the network, using a benefits-led assessment that considers the relative value of different capacity choices and which maximises the opportunities for getting more freight on each train
Upgrade Britain's infrastructure to make it fit for the digital age, which can allow both freight and passenger trains to run more efficiently
Work with the rail industry to incentivise businesses to switch their goods from road to rail
Establish an efficient logistics sector which has hubs and terminals in the right places, with strong rail connectivity to help avoid a road-led recovery
Commit to investing in the infrastructure required to decarbonise rail freight including a long-term programme of electrifying the railways
Ensure that the future industry structure supports rail freight growth and unlock continued third-party investment that will allow rail freight operators to deliver greater long-term economic and environmental benefits