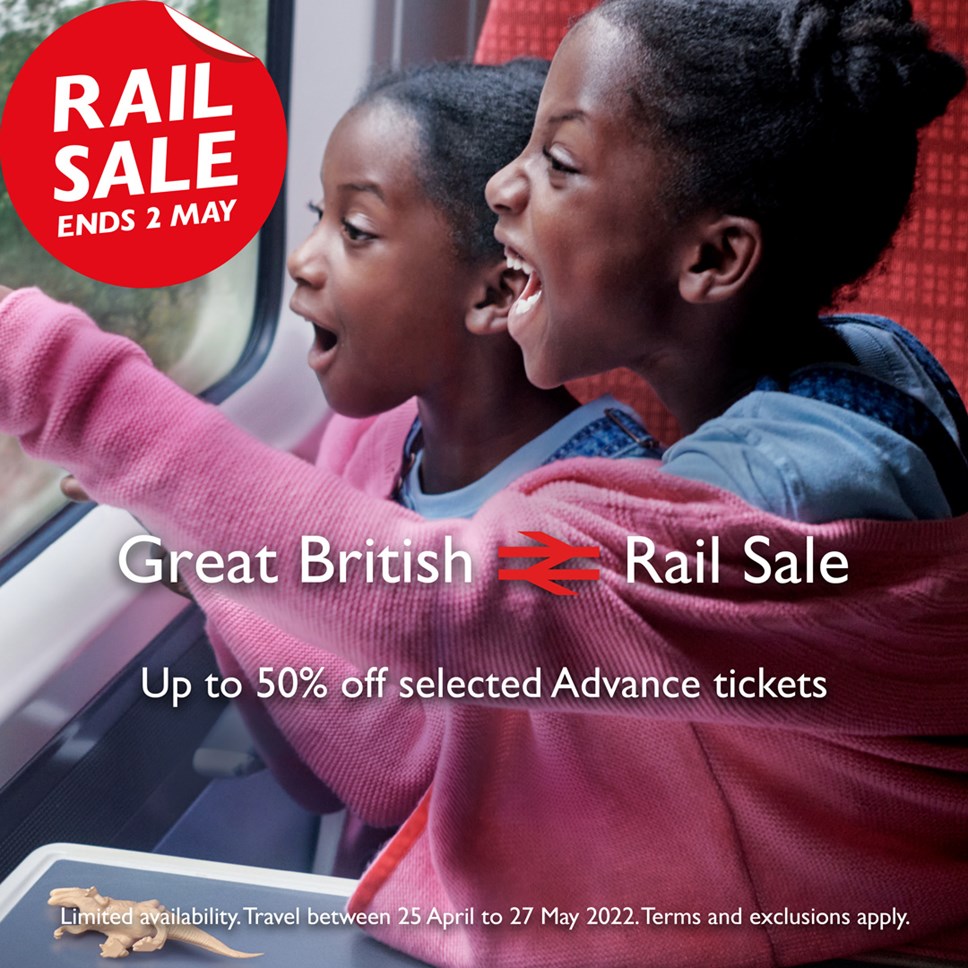 Rail industry launches networkwide sale
Save upto 50% off over 1 million journeys, whilst stocks last
From today customers will get to enjoy up to 50% off select Advance tickets on over 1 million journeys, as the rail industry unveils its first ever networkwide sale.
Dubbed the Great British Rail Sale, customers will be able to buy discounted tickets from 19th April – 2nd May but are encouraged to get their Great British Rail Sale tickets quickly as once they're gone, they're gone.
Railcard customers will also be able to save an extra 1/3 off a Great British Rail Sale ticket. Some of the locations customers will be able to explore for less during the Great British Rail Sale include:
York to Leeds: WAS £5.60, NOW £2.80
The 20-mile train journey from York to Leeds crosses some of Yorkshire's most beautiful landscapes, and links two of northern England's great cities: York, the ancient Viking capital with beautiful, cobbled streets and Leeds which is the biggest shopping hub outside of London and has a rich industrial history.
London to Edinburgh: WAS £44, NOW £22
Scotland's capital, Edinburgh is full of history, culture and lots of fantastic places to eat, drink and shop. After arriving in to the heart of the city you can immerse yourself in the city's stunning architecture perched atop hills with little nooks and crannies to explore.
London to Cardiff: WAS £47, NOW £25
When you travel to Cardiff, there are loads of things for you to see and do from Castle Cardiff and Castle Bay to museums and even Principality Stadium, which is a must visit for Rugby fans.
Wolverhampton to Liverpool: WAS £10.50, NOW £5.25
Within Liverpool's rich and diverse city region, you'll find areas packed with museums and galleries, restaurants and bars, along with a spectacular coastline of sand dunes and beaches not to mention a skyline that is recognised the world over.
Manchester to Newcastle: WAS £20.60, NOW £10.30
United by seven iconic bridges across its popular Quayside, Newcastle and Gateshead form a single, vibrant visitor destination. There's lots to see and do within walking distance of the station thanks to its award-winning restaurant scene, attractions and museums.
To find out what journeys are available as part of the Great British Rail Sale customers should visit www.nationalrail.co.uk/railsale
Contact Information
Sarah Apps
Notes to editors
Great British Rail Sale tickets will be available from 10.00 on 19th April – 23.59 on 2nd May 2022 for travel between 25th April until 27th May 2022. Tickets must be purchased a minimum of one day in advance of the date of travel.
Great British Rail Sale tickets are not available on all routes or from all train companies. Tickets are subject to availability so when they're gone, they're gone.
The discount will be available on selected Advance tickets. Where a participating train company does not offer Advance tickets, Off-Peak tickets may be offered as an alternative. Customers should visit www.nationalrail.co.uk/railsale to see what discounts are available for the location they wish to visit and a full list of terms and conditions.