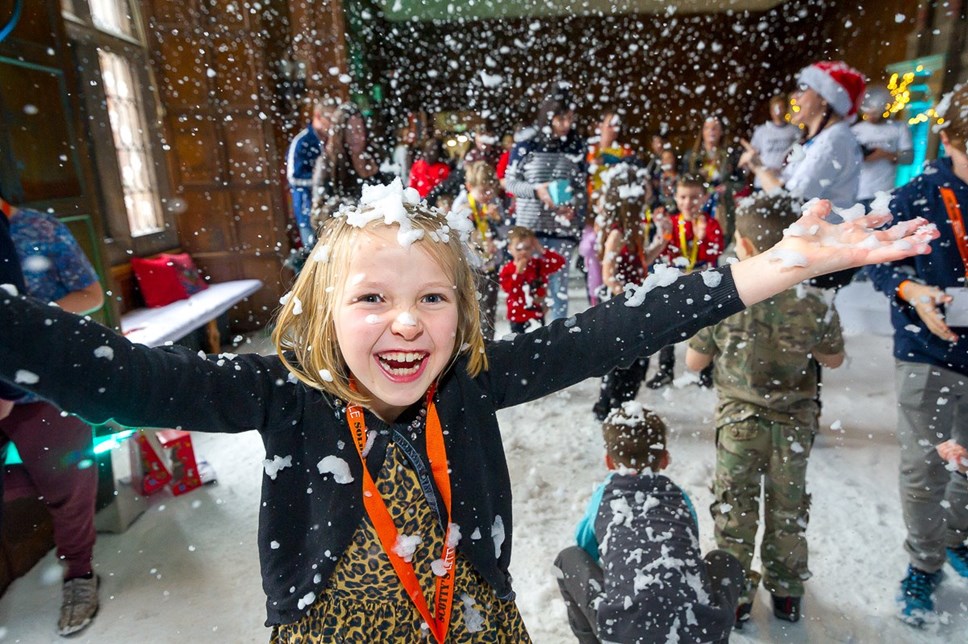 Rail industry teams up with Scotty's Little Soldiers to put smiles on the faces of bereaved British Forces children this Christmas
Scotty's Little Soldiers, the national charity that supports children of servicemen and women who have lost their lives, will be giving over 170 bereaved British Forces children from all over the UK a reason to smile this weekend when they attend a very special Christmas party in London.
The Rail Delivery Group, representing train companies and Network Rail, has teamed up with Scotty's Little Soldiers and offered 400 commemorative rail vouchers for the children and their surviving parents to travel from all over the UK to attend the exclusive event.
Founded by war widow Nikki Scott in 2010, Scotty's Little Soldiers was set up in memory of Nikki's husband and father to her two children, Corporal Lee Scott, after he was killed in Afghanistan in 2009. Scotty's Little Soldiers provides a network of support to children and young people who have lost a parent who served in the British Armed Forces.
This year alone the charity has supported over 400 bereaved Forces children across the UK, providing access to the very best health and wellbeing support, outstanding development opportunities and a chance to smile again.
Scotty's Little Soldiers' annual Christmas party is a highlight for many of the children who continually face challenges as their grief affects them in different ways as they journey through life without their parent. Whilst the focus of the party is creating a fun, memorable experience at a difficult time of year for many, all the activities have been designed with bereavement charities and childcare professionals to encourage wellbeing, confidence, communication and team-working - areas of identified challenge.
Nikki Scott, Founder of Scotty's Little Soldiers, said: "We really can't thank the Rail Delivery Group enough. The Christmas party is such an important event that means so much to the children we support, but of course to get families from all over the UK to London is such a huge cost for a charity. This amazing gesture from the rail industry is so appreciated. Not only has it saved us a lot of money, but it has also made organising the event easier. Thank you!"
Paul Plummer, Chief Executive of the Rail Delivery Group said: "We are proud of the role that the railway plays every day in bringing people together from right across Britain. Nikki and her team are doing something truly amazing in bringing together families, who have suffered terrible loss, to create happy Christmas memories. We are delighted to support them in delivering some festive fun this Christmas for the families of service personnel who have made the ultimate sacrifice."
For more information on Scotty's Little Soldiers, go to www.scottyslittlesoldiers.co.uk
For more information on Rail Delivery Group, go to www.raildeliverygroup.com
Contact Information
Layla Fazal
Notes to editors
About Scotty's Little Soldiers
Scotty's Little Soldiers provides its members with support and guidance throughout their childhood and offers a respite, however brief, from the daily ups and downs of coping with the loss of a parent. It does this through three programmes. SMILES offers children the opportunity to smile and laugh again through a wide range of activities and gifts. The SUPPORT Programme aims to assist with the more emotional side of bereavement and includes access to professional counselling and a family support network. The STRIDES Programme helps with the charity's members personal development and includes a range of activity and educational grants. A fourth programme is also being developed. The SPRINGBOARD Programme will be for 19 – 25-year olds to ensure the support continues into early adulthood.
In 2018 Scotty's Little Soldiers was honoured to be one of seven charities chosen to benefit from donations marking the wedding of Prince Harry and Meghan Markle and has since received regular support from the royal couple.
Scotty's Christmas party will include a multi-charity resource village with other military charities that will be available for families requiring information or support - RNRM Children's Fund, RAF Benevolent Fund, Royal British Legion, Army Widows Association, RAF Widows Association and RNRM Widows Association will be in attendance.
About Rail Delivery Group
The Rail Delivery Group represents all train companies and Network Rail. The rail industry is working together to change and improve the railway today, including adding 8,000 new and hundreds more refurbished-like-new carriages – equivalent to replacing half of today's train carriages new for old – and adding over 11,300 extra services per week to make trains more frequent. 
The complementary passes provided to beneficiaries of Scotty's Little Soldiers offer standard class rail travel to London between 5th and 7th December and return travel from London between 6th and 8th December. The vouchers would be valid to travel across London on London Overground services, TfL Rail and Thameslink services between National Rail stations but would not be valid on London Underground, DLR, London Buses or the London Tram.