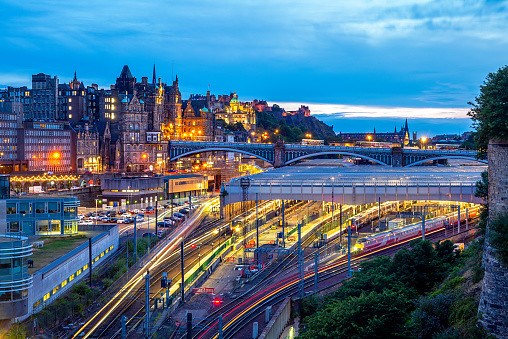 Rail industry will add over 1,000 extra weekly services in Winter timetable
1,000 extra services per week to be added as part of rail industry plan to improve journeys, boost local economies and better connect communities
Rail companies are asking passengers to check before they travel as many train times are changing in the new timetable starting this Sunday
The industry is prioritising punctuality and reliability as it works together to prepare for the change
Many train times will change from tomorrow (December 15) as over 1,000 extra train services are added to the weekly timetable, so train companies are asking passengers to check before they travel.
Investment in the network, including in new and upgraded carriages and extra services, will improve journeys, better connect communities and boost the economy. In many cases, journey times will be reduced and elsewhere, there will be new routes and more frequent trains. The additional 1,000 extra services come on top of 4,000 introduced over the last two years, part of a long-term plan to bring in over 11,000 more services over eight years, an increase of almost 10 per cent.
The timetable change means people in many parts of the country will see more local and long-distance services introduced to their network. The biggest improvements include the introduction of hundreds more services per week on Great Western Railway and ScotRail, adding thousands more seats every day. Great Western Railway is also making trains between Devon/Cornwall and London, and Bristol/Cardiff and London quicker; Greater Anglia are introducing a new connection between Norwich and Stansted airport, and London North Eastern Railway are providing more frequent train services between Lincoln and London.
In addition, Northern, Thameslink, Transpennine Express and Transport for Wales Rail are all introducing new services. Many train operators are also bringing in new trains to increase seats and extending existing services to more stations to boost connectivity.
The rail industry, in some cases, has put years of work into drafting, consulting, and planning for these changes. Train companies and Network Rail are putting joint readiness teams in place and planning to increase staff at stations to help passengers as they get used to new trains and new train times, so they can plan journeys with confidence. The industry will monitor services and respond as quickly as possible to keep any initial disruption to a minimum.
Robert Nisbet, Director of Nations and Regions at the Rail Delivery Group, which represents the rail industry, said:
"Many train times will change next week as train operators introduce faster and more frequent services to improve journeys and better connect communities up and down the country, so people should check the timetable before they travel. Train operators and Network Rail will be working together to run a reliable service and respond quickly to any teething problems as people get used to the change."
The timetable change allows operators to alter train times to make services more reliable, in some cases to reflect the operational challenges of different seasonal weather. During winter weather, train companies and Network Rail are ready to deploy 'ice-busting trains' with anti-icing fluid, adhesion gel and snow ploughs. Working together they will ensure stations are safely gritted, station teams are prepared with shovels and anti-ice equipment and drivers are trained to deal with wintery weather.
The December 2018 and May 2019 timetable changes were successfully implemented with the rail industry adding thousands of new services while improving punctuality. The proportion of trains arriving within one minute of their scheduled time at each station increased from 65% in December 2018 to 69% in May 2019.
ENDS
Notes to Editors
Britain's rail companies have published a joint Investment Report 2020, with the industry committing to deliver over 1,000 extra services a week and introduce 1,000 new carriages in the year ahead. In total, an estimated £20 billion will be invested in running and upgrading the railway in 2020.
New services being introduced in the timetable change include:


Train company
New services
Greater Anglia

New Norwich to Stansted Airport service
Increased frequency to hourly on Norwich-Lowestoft, Lowestoft-Ipswich and Ipswich-Cambridge services on Sunday

Great Western Railway

Extra high-speed services during the week. With the May 2020 timetable change this will add up to 395 more in May 2020 versus May 2019, an increase of more than 30% and the biggest change since the introduction of high-speed trains on the route in 1976
Introduction of fast and non-stop services for long stretches bringing Bristol and South Wales closer to London

London North Eastern Railway

Additional service from Newcastle to Edinburgh on weekdays
Additional service between Lincoln & London in both directions, Monday to Saturday
5 more services between Lincoln & London and 4 between London & Lincoln on Sundays

Northern

Additional train per day each way between Middlesbrough and Whitby

ScotRail

More services between Aberdeen, Dyce (increases from 49 to 78 services per day, a 59% increase) and Inverurie (increases from 45 to 76 services per day, a 69% increase)
More through services between Montrose and Inverurie (increases from five to 28 direct services per day)
Increase in capacity on peak services between Edinburgh and Glasgow Queen St via Falkirk High as all peak services will be eight carriages long
Opening of a new station at Robroyston, offering direct journeys to Edinburgh and Glasgow

TfL Rail

4 trains per hour during peak and 2 trains per hour off peak between Paddington and Reading
Taplow and Iver stations will receive a Sunday service for the first time

Thameslink

The existing 2 trains per hour both directions, Saturday Thameslink Peterborough to King's Cross and Horsham to London Bridge services will join up through the London core. This will provide additional cross-London connectivity in both directions and new direct Gatwick connections for stations to the north of London Bridge.

TransPennine Express

New early morning Sheffield to Cleethorpes service
Later last train of the day from Cleethorpes to Sheffield
3 new Liverpool to Glasgow services a day
Extension of Manchester Airport – Middlesbrough services to Redcar Central

Transport for Wales Rail

294 additional Sunday services, including full Sunday service on the Maesteg and Conwy Valley lines for the first time

West Midlands Railway and London Northwestern Railway

Additional weekday Crewe-Walsall service at 0652
5 additional Sunday morning services on the Chase Line (Rugeley TV-Birmingham NS)
1 additional Saturday service between Coventry and Leamington Spa
Introduction of 18 through services from Liverpool-Euston on Sundays
Additional weekday morning Coventry-Birmingham New Street service
3 additional weekday services from Euston to Watford Junction



As well as new services, train companies are making other improvements with the introduction of the December timetable change, including:

Adding calls at extra stations on existing services to boost local connectivity
Extending routes of existing services to go further, allowing more people to access train travel
Providing more direct routes for people and taking advantage of new, electric trains to speed up journey times
Introducing new and refurbished trains, increasing capacity with thousands more seats every day and improving accessibility.
Contact Information
Rail Delivery Group Media Team