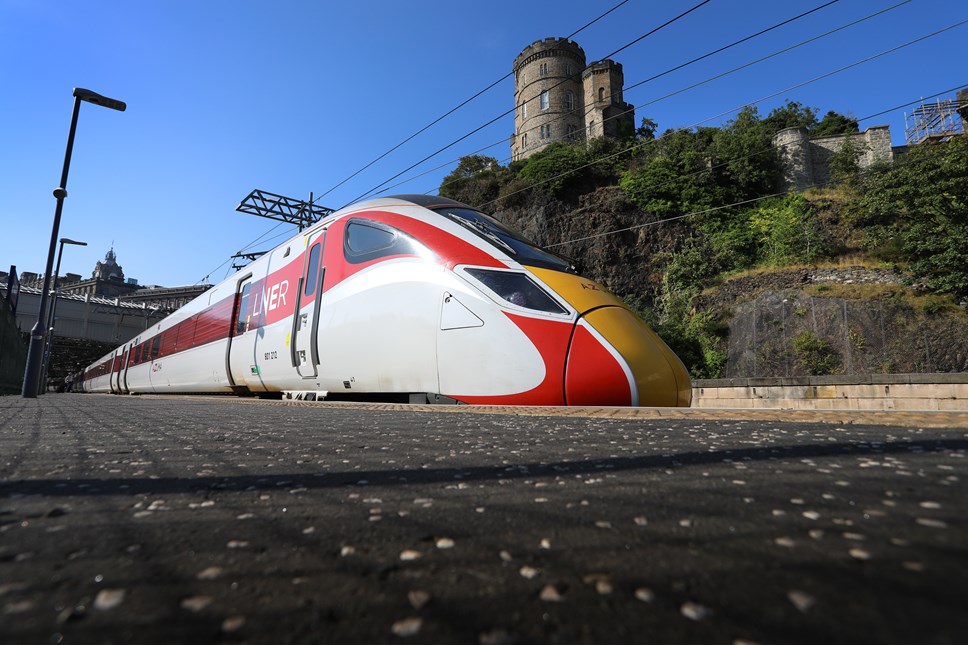 Rail travel emits 10 times less carbon than car travel, new figures show
New carbon calculations demonstrate travelling by rail from London to Edinburgh creates 10 times less carbon emissions than by car and 13 times less than by plane
The new figures use detailed rail data – including fuel type, journey distance, carriage layout and occupancy – for the first time to create an industry benchmark for rail carbon measurement
Green Travel Pledge – a rail industry initiative – will provide carbon calculations which are set to be released to businesses for rail routes across Britain by the end of the year to demonstrate green credentials of rail
Rail travel creates 10 times less carbon emissions per passenger than the equivalent car journey and 13 times less than travelling by plane, newly released figures have shown.
The new data shows that the equivalent journey from London King's Cross Station to Edinburgh Waverley Station produced 12.5kgCO2e of carbon emissions per passenger by train, compared to 136.4kgCO2e by car and 165.1kgCO2e by plane.
This is the first time that detailed rail data – including engine type, fuel type, journey distance, occupancy and carriage layout – has been combined to showcase the environmental benefits of rail travel.
The emissions for this typical long distance, electrified commuter train route are currently being calculated at nearly half the figure that is considered standard measure by the Department for Environment, Food & Rural Affairs (Defra). This shows the importance of using granular data to accurately understand how our travel choices impact our carbon footprint.
The results are part of the rail industry's Green Travel Pledge – a commitment to engage and empower businesses and business travellers to make more informed choices by providing detailed, accurate and reliable data on the carbon emissions of rail journeys at the point of sale.
The Rail Delivery Group, leading this effort on behalf of the rail industry in partnership with Great British Railways Transition Team Thrust Carbon, Fabrik and Black Box Partnerships, says that this is just the beginning. Detailed carbon emission data for rail journeys across Britain will be made available to businesses later this year.
Jacqueline Starr, CEO at the Rail Delivery Group, said: "This is a preliminary result but it shows what we all know – that rail is by far the most sustainable travel choice for businesses and business travellers.
"Choosing rail over more polluting methods, like cars and planes, is an easy way to help protect the planet.
"We want to empower businesses to make greener travel choices.
"Businesses have been asking for a tool to demonstrate the environmental benefits of shifting business travel journeys from planes and cars to rail. We are now delivering this.
"We are really excited to be rolling out accurate and reliable carbon emission data for rail routes across Britain as part of our Green Travel Pledge later this year so businesses can accurately demonstrate how rail travel is helping them to reach their environmental, social and governance (ESG) goals."
Kit Brennan, Founder and Head of Product at Thrust Carbon which has helped to develop the methodology behind the new rail carbon calculations, said: "Businesses always knew that rail was the greenest way to travel; but for the first time we now know just how much greener it is.
"This is the first time we've combined such granular data on occupancy, journey distance, carriage layout and a number of other factors to provide an accurate and reliable figure for greenhouse gas emissions.
"We are excited about expanding the rail carbon calculator to include rail routes across Britain to support businesses to travel more sustainably in future."
Clive Wratten, CEO at the Business Travel Association (BTA), said: "We've heard loud and clear from our members and the business travel community, that consistency in carbon measurement is an imperative.
"This initiative from RDG on behalf of the whole rail industry has the potential to provide clarity and a robust green message to all parts of business travel."
You can find out more about the Green Travel Pledge at www.raildeliverygroup.com/gtp.
Find out more about how the rail carbon figures were calculated by reading Thrust Carbon's blog.
Contact Information
Rail Delivery Group Media Team