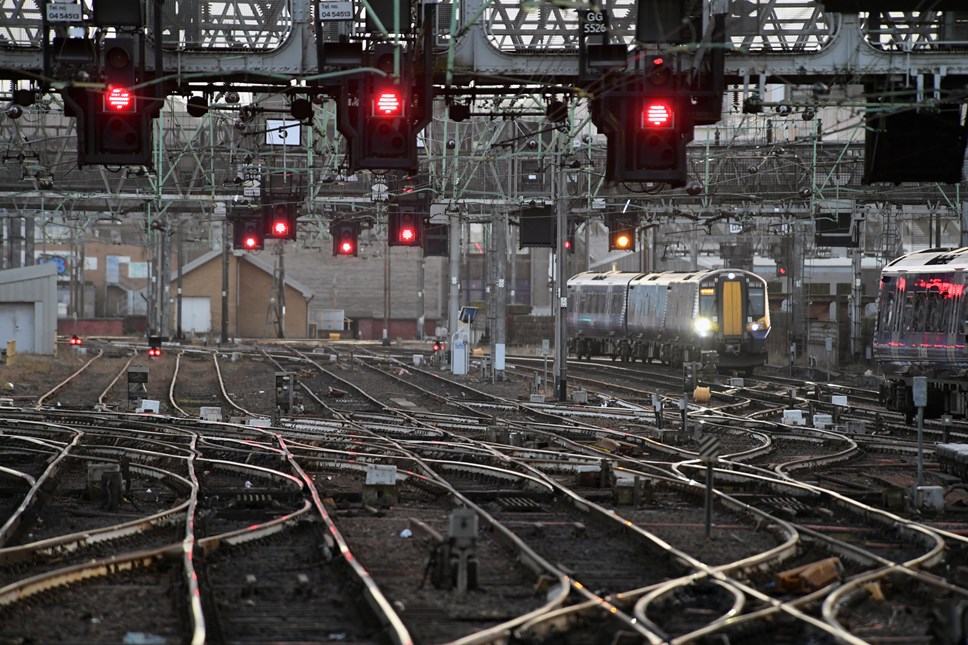 RMT urged to call off strikes and stay at the table
Rail industry urges RMT to call off premature strikes and continue discussions to avoid unnecessary and disruptive industrial action  
Reform is necessary to modernise the industry and secure the long-term future of the railway 
The rail industry is urging the RMT leadership to continue discussions and call off strike action following the union's announcement of planned walk-outs on 21st, 23rd and 25th of June.
The strike action will cause significant disruption to businesses and passengers, particularly key workers who cannot work from home.
The rail industry has held talks with the RMT and wants to work to find a solution that will avoid strikes and achieve a fair deal for passengers, taxpayers and rail staff.  
Reform is necessary to secure a long-term future for the railway, which has received over £16bn since the beginning of the pandemic to keep services running. This sum – equating to nearly £600 per household - means the industry is taking more than its fair share from other public services.  
With passenger numbers only at around 75% of pre pandemic levels, it is not sustainable to expect increased levels of funding indefinitely. Industry needs to change both to become more efficient, and to bring it up to date with how people work and travel today so that it can ultimately attract more passengers back. 
Rail Delivery Group Chair Steve Montgomery, said:    
"Today's announcement is disappointing. We urge the RMT's leadership to call off needless and damaging strikes and continue to work with us to ensure a fair deal for our people and for the taxpayer while securing the long-term future of the railways.
"No one wins in the event of a strike. Staff lose pay, the industry loses vital revenue making it harder to afford pay increases, and passengers and businesses are disrupted.
"While we will keep as many services running as possible, sadly if this action goes ahead, significant disruption will be inevitable. We therefore urge passengers to plan their journeys carefully and find alternative ways to travel during the strike period where possible." 
The industry will now work together to finalise its timetable for strike days which will be announced shortly. Information on ticketing and refund policy during strikes can be found at www.nationalrail.co.uk/industrialaction  
Contact Information
Martin Spencer
Media Relations Manager
Rail Delivery Group
Notes to editors
According to latest Office of Rail and Road statistics on rail industry finances, the government contributed £16.9bn to the operational costs of the railways in the financial year 2020-2021.  This included a £1.4 billion planned increase in Network Rail funding and £9bn of funding to franchised train operators as a result of introducing Emergency Measures Agreements (EMAs)  
Rail industry revenue is currently at 82% of 2019 levels, which equates to a £38m shortfall on pre-covid levels every week. 
An example of the kinds of terms and conditions which need to be changed to bring rail up to date with how people travel today and bring more passengers back is the current arrangement to keep trains running on a Sunday. Currently, many staff are contracted to work over a six-day period (drivers tend to work four-day weeks and other staff five), with Sundays not being considered to be part of this. Operators obviously run trains on Sundays but in order for this to happen, many train companies are dependent on people volunteering for overtime shifts. That means operators are extremely reliant on something called rest day working (RDW), which is in effect 'overtime', and it means services for passengers are often less reliable on a Sunday. Industry wants to change this for passengers. 
In other roles, staff are limited to working at a specific location. This means train companies don't have the flexibility to freely move staff where they are most needed to support customers during disruption or special events.