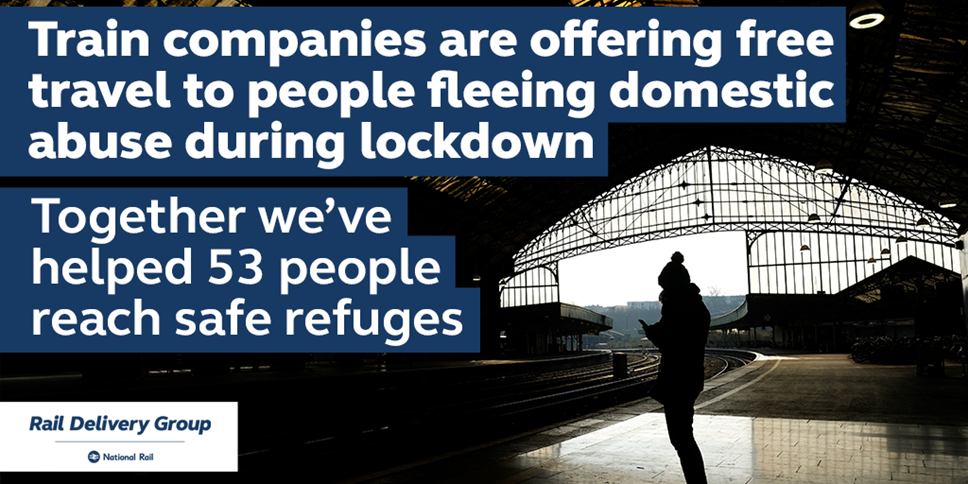 Train companies have given free travel to 53 people fleeing domestic abuse during lockdown
Rail companies have helped 53 people with free travel as part of the 'Rail to Refuge' scheme, which offers free train travel to people escaping domestic abuse during lockdown.
Train operators announced the launch of the Rail to Refuge scheme on 9 April to support people during the pandemic and are encouraging people again this month to share information about the scheme. In a joint initiative with Women's Aid, train operators are covering the cost of train tickets for anyone travelling to refuge accommodation while coronavirus lockdown measures are in force.
Since the launch, on average 2.5 people every day have been able to make a free journey to a safe refuge. A quarter of those have been children.
Rail to Refuge was first introduced by Southeastern in September 2019, after one of the station managers, Darren O'Brien, watched a Dispatches documentary about Reigate and Banstead Women's Aid. GWR joined the scheme at the beginning of March this year as part of its celebration of International Women's Day.
More people require support while suffering domestic abuse during lockdown. Women's Aid are reporting a 47% increase in demand for Live Chat since 16th March.
People experiencing abuse may not have access to cash so free travel can be a lifeline. More than half of people who booked through Rail to Refuge wouldn't have travelled if the journey wasn't paid for.
Jacqueline Starr, Chief Operating Officer at the Rail Delivery Group, said:
"We want to do whatever we can to help people out of desperate situations during these unprecedented times. Our staff are working hard to ensure that the railway can keep on running for necessary journeys as well as providing a lifeline for victims of domestic abuse in communities up and down the country."
Nicki Norman, acting Chief Executive of Women's Aid, said:
"Accessing money can be difficult for women experiencing domestic abuse, particularly if they are experiencing financial abuse. We know that this can stop women from travelling to safety and can be a huge barrier to support.
"We're delighted that our Rail to refuge scheme is removing this barrier and is allowing women to travel to the safety of a refuge without the difficulty, and sometimes impossibility, of booking and paying for their own travel. When escaping from domestic abuse, taking those first steps can be the most difficult and such a stressful time. We thank train companies for helping to make that first difficult step much more accessible to women, particularly during the crisis when women experiencing domestic abuse are facing unimaginable isolation."
Southeastern station manager, Darren O'Brien said:
"I was extremely moved by the Dispatches documentary and asked whether we at Southeastern could do anything to help. When we introduced the 'rail to refuge' scheme last year, we knew that it was only a small thing for us but would make an enormous difference to women escaping domestic abuse. It's fantastic that other train operators are following in our footsteps."
Survivors of domestic abuse who would like to access the scheme, or need other support, can get in touch with Women's Aid through their Live Chat: https://chat.womensaid.org.uk. This is open Monday – Friday, 10am – 2pm.
Contact Information
Layla Fazal