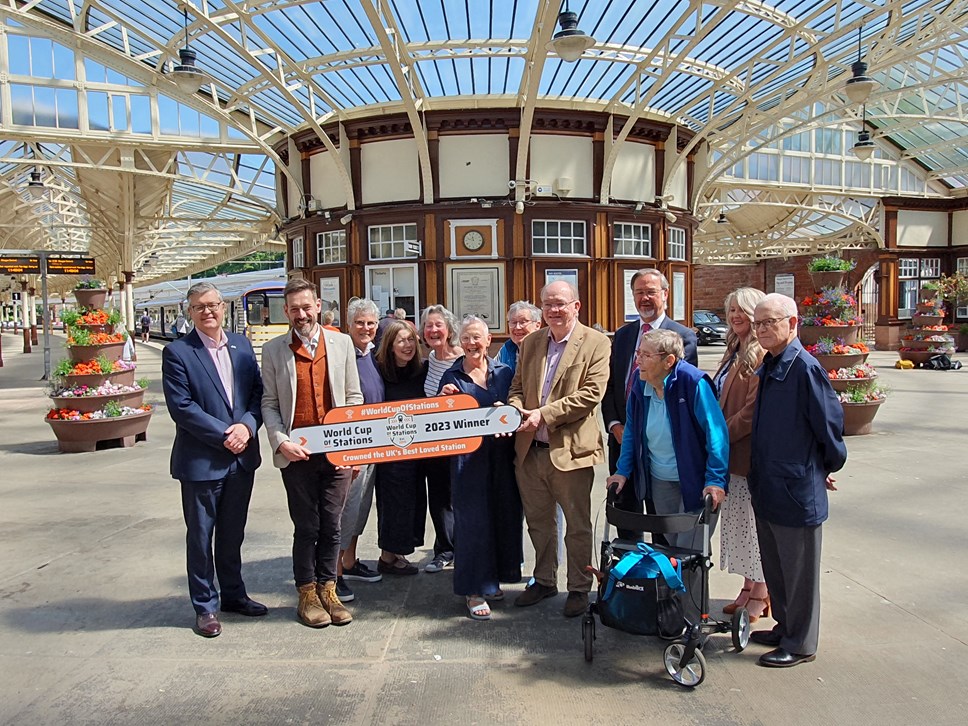 Wemyss Bay Station is presented with the Great Britain's best loved station Award
Wemyss Bay Station was presented today (9 June) with the Best Loved Station award by broadcaster and historian Tim Dunn. The station emerged victorious in the highly anticipated World Cup of Stations 2023 as champion, surpassing 47 other stations to claim the title. 
Pictured with Tim Dunn, broadcaster and presenter, Tracy Stevenson, Community Relations for Scotrail, Ronnie Cowan, Scottish National Party MP for Inverclyde and Stuart McMillan Scottish National Party, MSP for Greenock and Inverclyde, Friends of Wemyss bay station.
The World Cup of Stations, supported by the Rail Delivery Group and Community Rail Network, captivated station staff, volunteers, train operators, and customers across England, Scotland, and Wales through a week-long competition with over 70,000 votes cast across 11 regions and nations of Great Britain. 
The ScotRail managed station won the award through its remarkable achievements Including: its outstanding volunteer work, the development of a vibrant and colourful community garden and the establishment of the station bookshop which resonated with voters, earning them widespread admiration and support. 
As part of Community Rail Week, the competition highlighted the remarkable diversity of stations and the imaginative ways in which they are utilised, often with the invaluable assistance of Community Rail volunteers who tirelessly work towards improving local stations for residents, the environment, and the local economy. 
The plaque symbolises the station's exceptional standing and recognition as the epitome of railway excellence in Great Britain. 
The station's triumph highlights its historic significance, awe-inspiring architecture, and dedication to community engagement. The Friends of Wemyss Bay, in collaboration others have transformed the station into a vibrant community rail destination, capturing the hearts of locals and visitors alike. 
In receiving this award, Wemyss Bay Station joins the ranks of the country's most beloved and cherished stations, cementing its status as a beacon of excellence in the railway industry. 
Contact Information
Asmaa Bahassan